i figured i'd pull this one over from the old site....... i'm starting to get excited for bow building season and going through the old pics is helping light a fire under my butt to get going
here is the metal hybrid from this past summer.
well, too much work has left me with a bad case of bowbuilding withdrawls (LOL). sooooo......... i have decided to do a purpose built metal longbow riser and carbon limbs. this will be similar to the recurve riser/hybrid combo riser but shorter to give me a 60-62" hybrid for hunting. i may incorporate some harmonic dampers into it but it will not be the skeletorized version that i designed several months ago with the unique limb pockets (or lack there of) allowing massive adjustablity (i will need some time on that one for machining so it will have to wait for winter) this will be a full on hunting bow so it will not have the pretty inlays and will probably be film dipped in predator camo.
since work still has not completely slowed down yet this may be slow going for the next month or so but i will keep updating as i have time to work on it........ here it is so far..... just a block of 7075 still clamped to the table, squared up and ready for machining.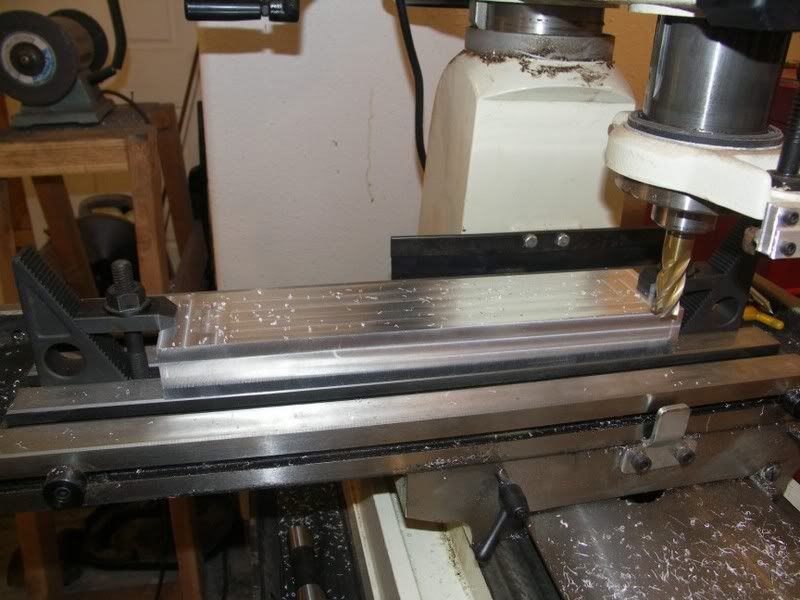 sight window and shelf are cut
well i had about an hour and a half after i got home tonight to fart around in the shop so the block of aluminum lost a few more ounces.
this time i cut the limb pads. i started off cutting on the bandsaw just outside the scribed line. from there i used my dial test indicator to square up my angle table and then square up the 4" right angle that sits on the angle table (set up on this stuff takes longer than the actual machining processes LOL). from here i set the angle table to 11 degrees and clamped in the riser. using a ball end mill, i cut the inside end of the limb pad pocket to the desired depth. from there i used an edge finder to find the edge and then adjusted the gib so that the 3/4" end mill would not cut into the radiused corner that i had just cut and milled the rest of the limb pad. here is a pic of what little i accomplished tonight (LOL).
i had a little time tonight to work on the riser. basically i got the sides milled to the dimensions that i want and am ready to drill and tap for pins and limb bolts...... from there i will mill out the holes and flanges for the harmonic dampers and then cut out the profile. here are a few pics.
milling the riser ends
here i am also milling the ends but i snapped this pic while milling. unfortunately i had the shutter speed too high so it looks like nothing is moving...... if you look just above the endmill, in front of the collet you can see a chip in mid air..... there are a few more in flight if you look close.
here is the riser after the ends were milled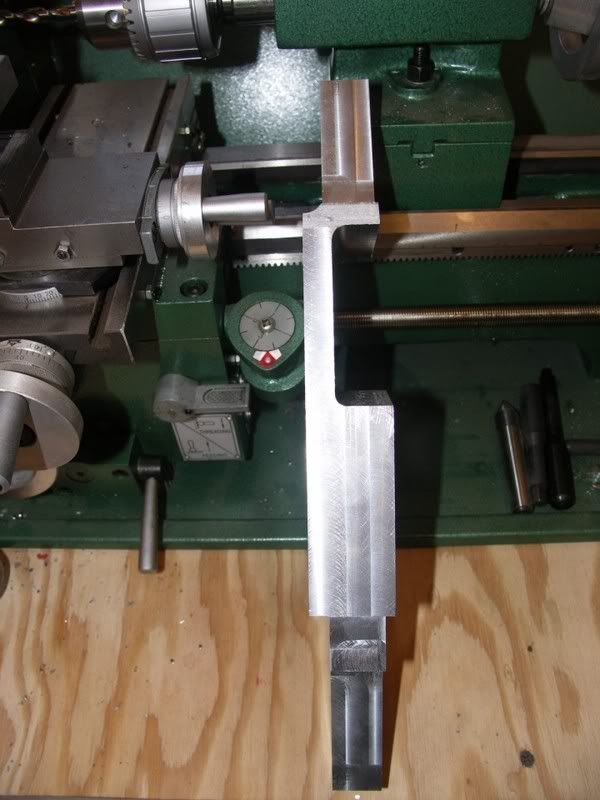 now i am using a 5/8 ball endmill to add some contours as well as radiusing just under the shelf/grip area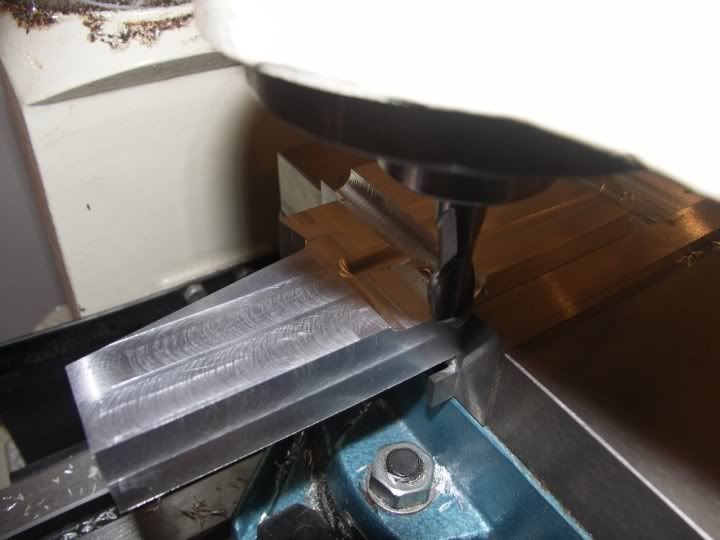 a little better pic after i was done
here it is next to my recurve riser after i was finished tonight.