Well, we went to the Yahi Bowmen Traditional Shoot. My dad was out from Upstate New York, so he and the three boys and I went shootin'. 28 3D targets - unmarked yardage. Some of us shot like hell, but we had a great time. Four of us came away with first place medals (don't ask how many people were in our classes).
Here are some pictures:
The oldest boy had his first go around as a youth at the adult stakes. He got to shoot between Grandpa and Dad here. He shot a new bow that a feller on Trad Talk gave him. He did great it was a tough shoot for him with lots of targets at 40+yds.
Here he is showing his form off. He got into the shoot off for overall winner and made one of the best shots in the first round of all shooters from about 43yds.
The middle boy shot at the cub stakes and beat the rest of us in our group. He had a good score compared to other shooters too. He also was in the overall shoot-off.
The youngest boy shot as a pee wee and had a great shot here. Yep, you guessed it he was also in the shoot-off.
The youngest shooting again. I think we are finally getting him to use an anchor point instead of floating his hand a couple of inches off his face.
Here's my good shot. Yes, the only one.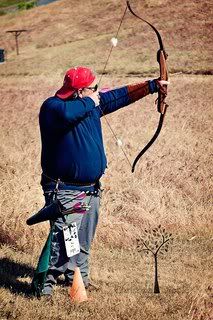 My dad shooting all the way from New York. He's trying out new form. I think he's starting to get it. I may have to start kicking him in the shins before we start from now on.
Here we are after the shoot. The wife traveled with us and took all these photos. She's a budding photographer and starting a business. If anyone needs photos taken she's the one to call. (Of course I may be slightly biased)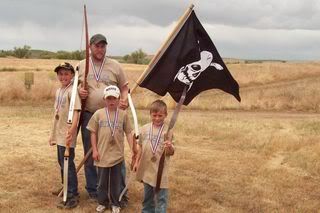 Here we are the West Coast band of the Pirate Crew.
Thanks,
--Tom