Now it is time to fletch the arrows. Like I told you earlier, I use all Bohning products to prep my arrows so I use Bohning glue to attach the feathers. I usually use Bohning Fletch Tite Platinum and I have never had a feather fall off. It makes a great bond to the dipping/sealing products and I have to cut the feathers from the shaft.
Feathers... the big three suppliers are AMG, Gateway and Trueflight. I have never gotten a bad feather from a bag of Trueflights. I like to shoot shield cuts and I like the shape of theirs a little more than Gateway and I think they may be a little more durable. I have used a lot of AMG feathers and have had no problem with them either. They have some of the brightest colors out there, and are a little cheaper. When it comes to the fake natural barred feathers, I think that the Trueflight looks a lot more realistic than the others. I make a lot of arrows and usually when I find them on sale somewhere, I stock up, regardless of manufacturer. Bear Paw has recently been putting some feathers out on the market but I haven't tried any of them yet. In the last year or so I have been using a lot of real natural barred turkey feathers that I have had processed by Magnus. He makes one of the best looking feathers that I have ever seen and will also dye them for you. I save mine, my son's and my friend's turkey wings in the spring and ship them to him to process. I sent him the wings from 13 different turkeys last year.
As far as right wing vs. left wing and parabolic vs. shield.... I don't think that it makes any difference at all. You just have to make sure that all of the feathers match, ie, from the same manufacturer, have the same cut and same wing. I like to shoot shield cut feathers basically because I think they look better. I only shoot left wing feathers. Several decades ago I read somewhere that a right handed shooter should shoot left wing feathers as the rotation of the arrow gave you better flight. That thought stuck in my feeble mind and everything I have and all of my fletching tools are set up for left wing feathers.
Fletching jigs.... Bitzenberger. Period. I know a lot of guys say they can get as good of an arrow from a Bohning or a Grayling or Arizonia or Jo Jan fletcher, etc. I have messed with them all and there is none easier to use or that turns out a better arrow than a Bitzenberger. I have three of them and my sons each have one. Two of mine were bought back in the early 80's and have fletched I have no idea how many arrows. They still work great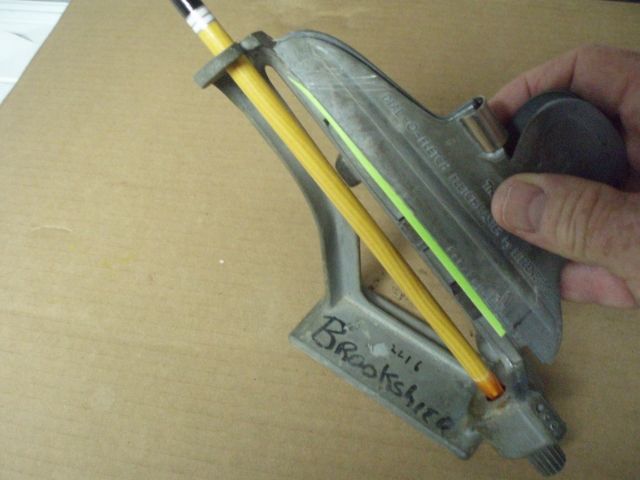 There is a lot of debate as to whether four fletch works better than three fletch, 4" vs. 5" etc. A couple of years ago I set one of my Titans up with Carbon Express shafts. It would shoot a bare shaft in the center of the ten ring at 20 yards. I took several dozen shafts and fletched up three of them with different fletching patterns. I had three that had 4" four fletch, three that had 5" three fletch, 5" four fletch, 4" three fletch, 5 1/2" high back three fletch, 3" four fletch. All of the more common fletching patterns and I fletched them different colors so I could easily see which were which. I shot almost every day for a full month and took a note book out with me, recording the results out to 40 yards. The short and sweet version is that more and higher fletching gives you stabilization, but you trade off a lot in trajectory. Sometimes as much at 24" at 40 yards. the bottom line at the end of all of that shooting was the realization that 4" four fletch and 5" three fletch were the best compromise between stabilization and trajectory, and there doesn't seem to be one bit of difference between the two. Shoot what you prefer. I came to the conclusion that whoever the old guys were that settled on 5" three fletch arrows being a standard a 100 years ago, were pretty smart dudes. That is what I shoot today.