I like a challenge and to try things I haven't done before and this project is a real challenge. Many years ago this old shotgun was wrapped in burlap and buried in the ground and remained there for 7 years. As you would expect, when the gun was unearthed the wood was gone and the metal is very corroded. This particular gun then remained in a state of disrepair for many years afterwards.
The shotgun is a Enders Royal Western 16 Ga. Break action. The top of the barrel is stamped with the following.
"Electro Steel Choke Bored gun patented August 12 1913"
Web searches state that the shotgun was made by Crescent Arms Co., which was associated with H & D Folsom Co. until the demise of both in the early 1930's.
The Enders Royal single shot scattergun was manufactured in an era when it was considered an inexpensive farm tool.
Enders Royal was a "Trade" name used by the Crescent-Davis Firearms Company on shotguns made for the Shapleigh Hardware Company of St. Louis, Missouri. Crescent merged with Davis in 1920, and was bought out by the Savage Firearms Company in 1930. This gun was made somewhere in the 1918 - 1929 timeframe.
I was asked if I could restore the old gun into service. This is not to be a show piece since the original gun was a hardware store "farmers" tool. The goal here is to return the shotgun to usable service to be fired and then perhaps hang on a wall in restored condition. It has sentimental value more than anything. Its not meant to be a trap gun or a shotgun that will see a lot of use
I have resorted a few gun in the past but the guns always had a stock or I could at least purchase a replacement stock. That is not the case with this old shotgun. Weeks of searching for a replacement stock online got me nowhere. Emails to custom stock makers were also dead ends. I have never made a stock before but that's about to change. I have only modest tools and don't plan to purchase tools for this project.
Here is the shotgun as I received it.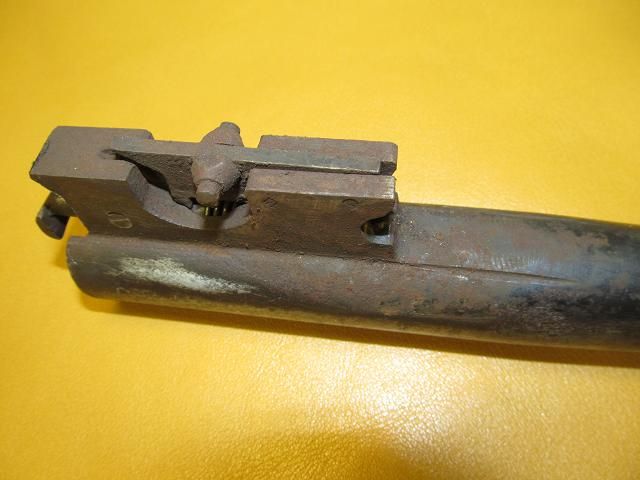 Below is the spring mechanism that will go into the forearm stock. The forearm grip of a break action shotgun is removable as the first step in taking the gun apart. Once the fore-grip is removed, the barrel can be removed from the receiver.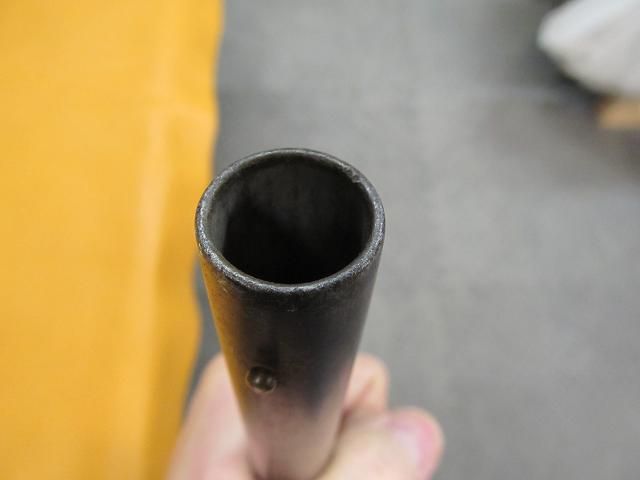 My search for a replacement stock got me nowhere but I was able to find a picture of the old gun from an online auction site that sold the gun years ago. This is all I have to go by in regards to making a stock. It's not much but it's a start.
It appears that the barrel was blued but the receiver and trigger guard were plated in a metallic finish. While I can cold blue I will need to come up with an alternative for the receiver (or just blue it along with all the other metal parts).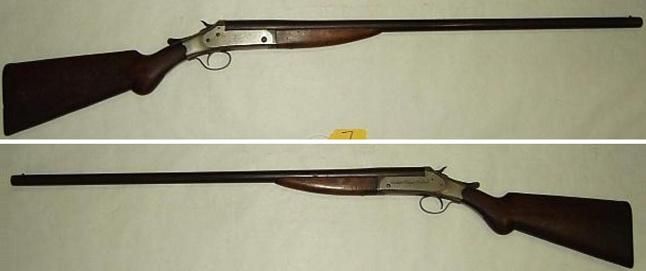 I used that screen image to create a full scale sketch of the stock I hoped to make but again I have never made a gun stock. If I can't make a stock there is no point in restoring all the metal so stock making is where I have to start.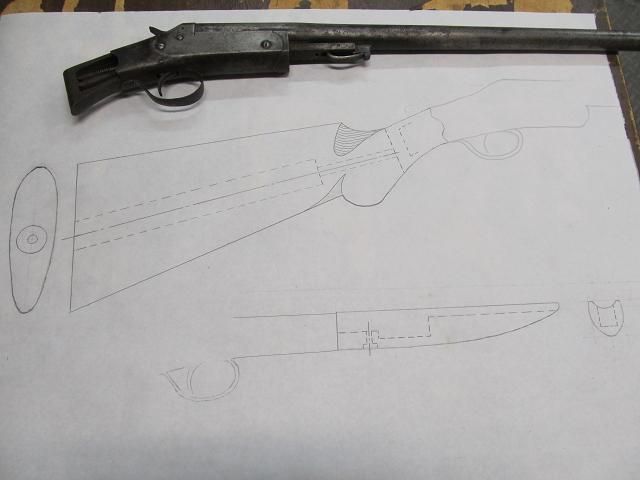 A few years ago my brother cut down a black walnut tree and had it sawn into dimensional lumber. It's been sitting in his shed for a few years. He gave me a piece that measures 4" x 8" x 7 feet. Somewhere in that twisted, cracked, checked, knotted and bird crap covered piece of wood, there are two pieces of a gun stock.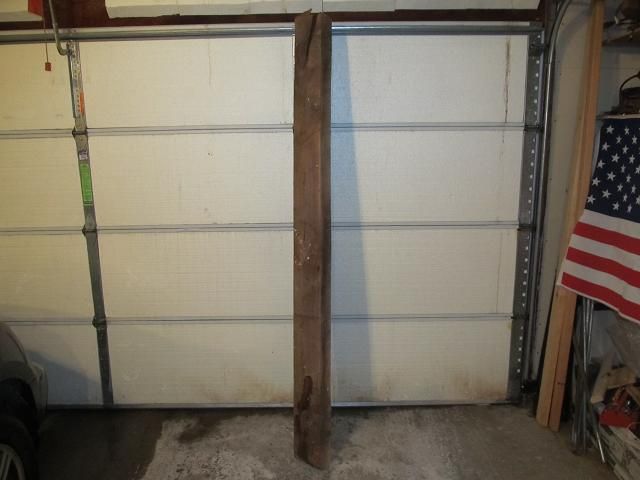 I begin the stock project with the fore grip. That walnut beam is solid and heavy and it looks like there are blonde streaks running through it. I grabbed the hand saw and loped off a chunk for the fore grip stock.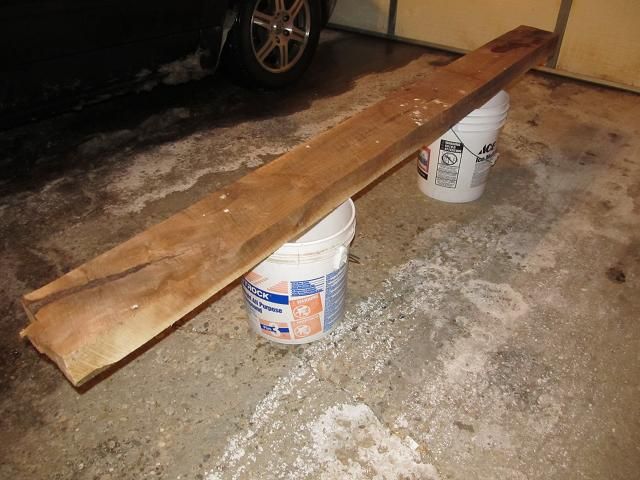 The foregrip is pretty small. I found a good looking piece after cutting it on my table saw.
I have to pocket out for the spring latch that holds the stock to the gun.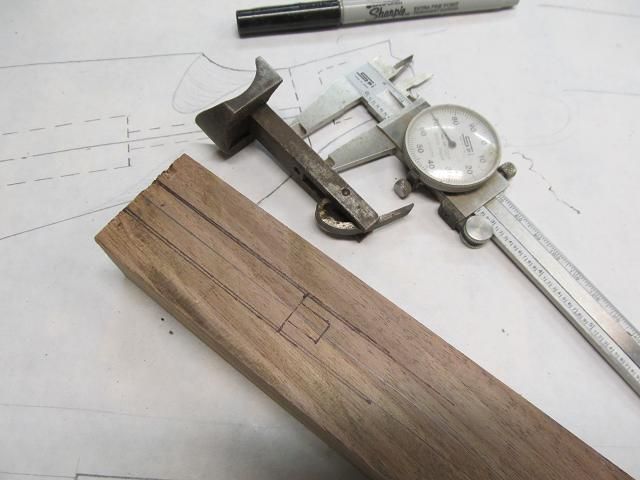 I plan on doing as much of this project old school as I can. Chisels, rasps, saws, planes, shaves, carving tools, sanding blocks, etc. I don't have a milling machine or router. I have a drill press but that's not much good here.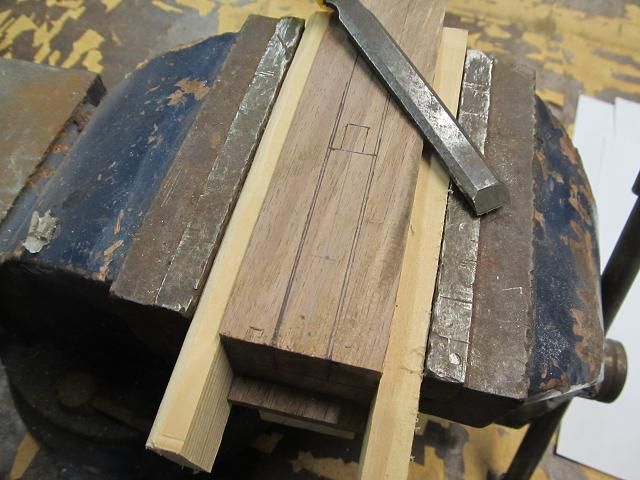 So it begins.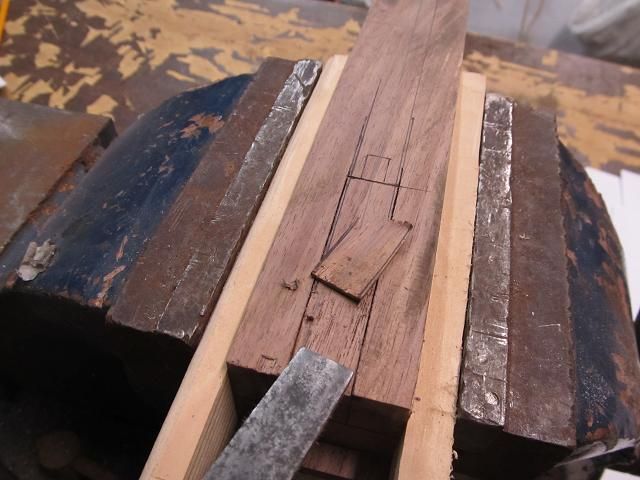 For the smaller features I used an exacto chisel.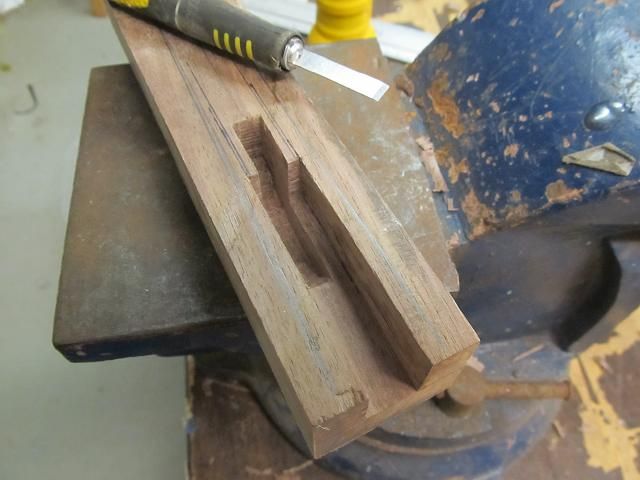 I have to make the barrel fit the length of the block.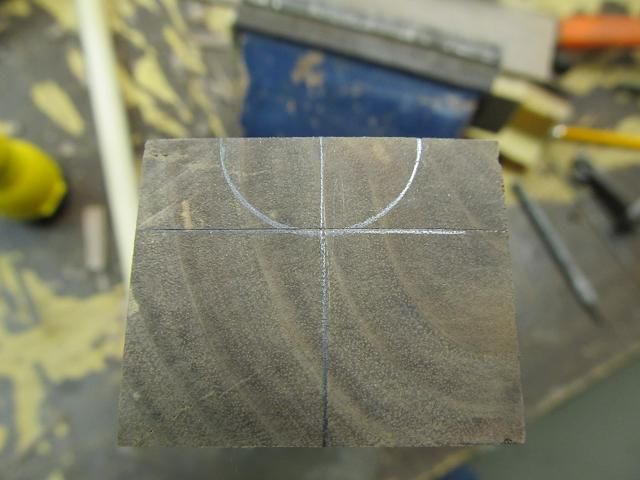 The table saw is the best choice here.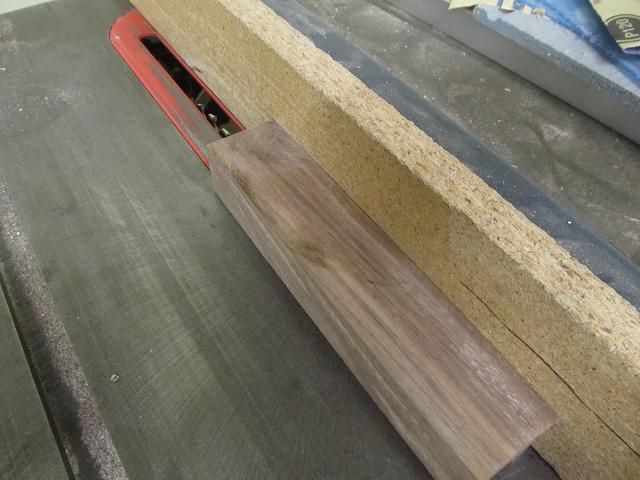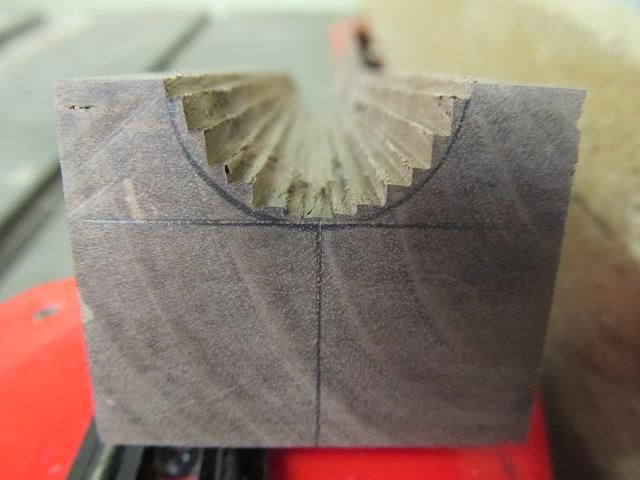 To get rid of the ridges left by the saw blade I employed the handle from my shop broom and some sandpaper. I can add broom handle to the list of hand tools for the project.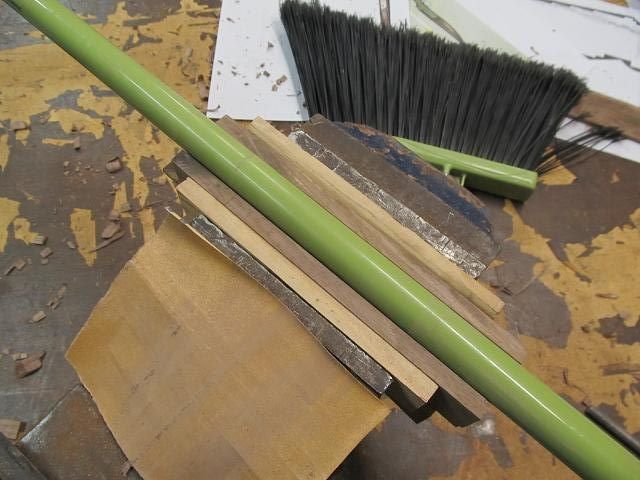 It worked just fine.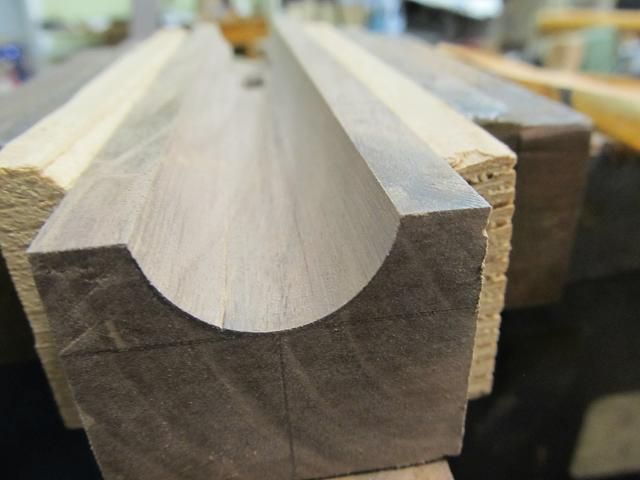 Where the barrel meets the receiver it flares out a bit. I laid the barrel on the stock and scribed lines and used carving tools.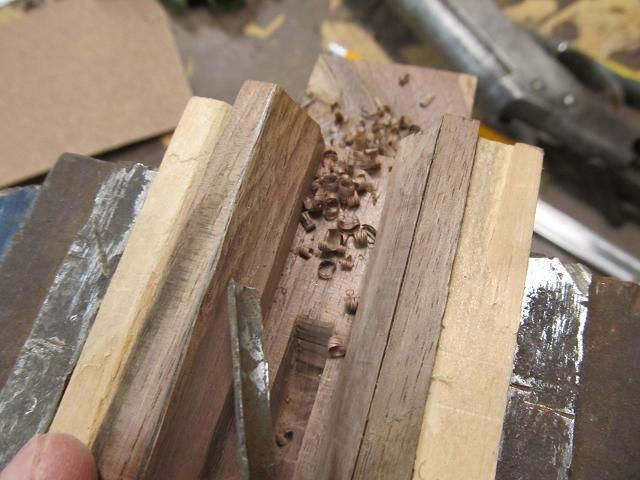 I would coat the barrel with pencil carbon and lay it in the stock and give it a twist. It left marks telling me where it made contact and where I needed to take away more wood.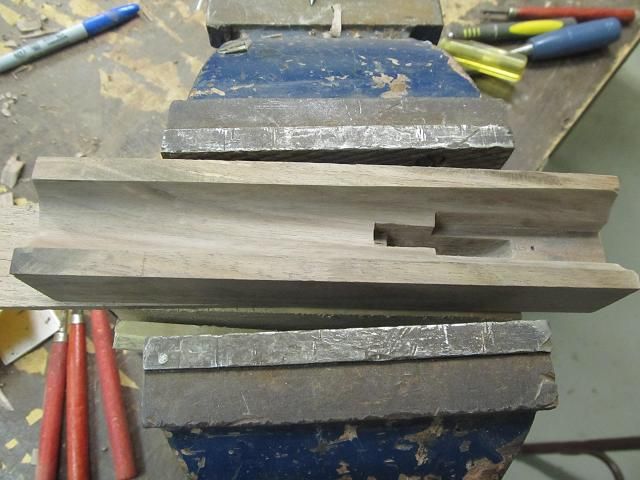 Then some profile cuts and a hole for the screw that mounts the spring mechanism.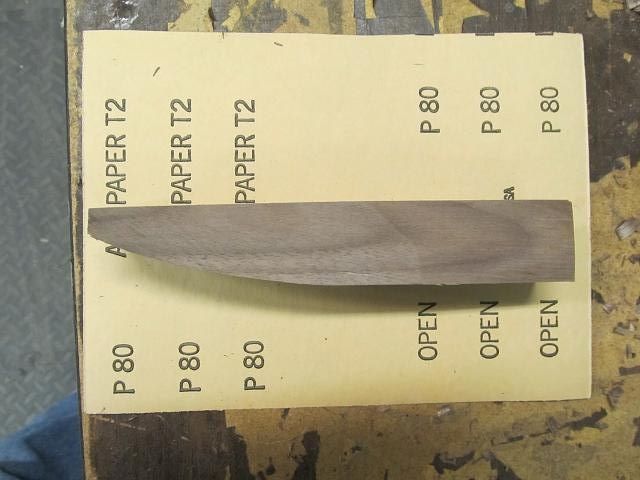 Then a whole lot of sanding and a counter-bore so the screw head sit below the surface.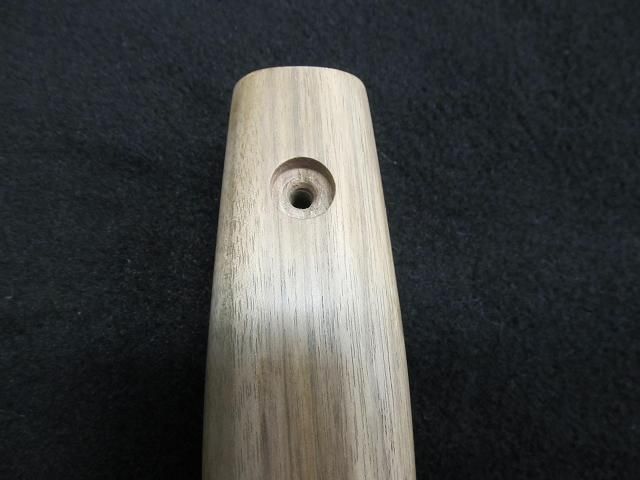 After the work was mostly complete (final sanding) those blonde streaks showed up.
I don't know if they add character or are ugly. Too soon to tell but I don't feel like starting over since any other piece might have more blonde streaks in it as well. So far so good. No screw ups and no injuries.