The fun part of bow making for me is sharing ideas and photos (and especially seeing those of others), so I'm starting this thread to show my research and development process for the next Walk-the-Talk (WTT3). I have nothing to hide and everything to gain from your feedback, so like the naked archaeologist on the History Channel (one of my favorite shows...lol), I'm going to lay my bow making bare...I'm going to peal back the outer layers to show what I am thinking and testing as I tweak and peak my hybrid longbow design until, hopefully, it will be fast enough to live up to the name I have given it--"The Hammer." I named it that because once it is peaked and tweaked it will "hit like a hammer and drive em deep."
If it isn't obvious by now, you should know that I work in marketing...lol. Ernie, for one, asked if I would do a SuperTiller build along. There may be some of that I can show during this process as well.
OK, so let's get started...
I took two longbows to WTT2 last year at Ken's. Both from my 64" hybrid form with 2" deflex and 4" reflex.
My son's bow was about 48#@28 and mine was about 53#@28. Both good shooters but they had overbuilt tips and 14-strand D97 strings with two extra strands in the loops plus cat whiskers. These bows both shot about 179 to 180 fps on Ken's machine with 10 gpp arrows.
Daniel drawing his bow...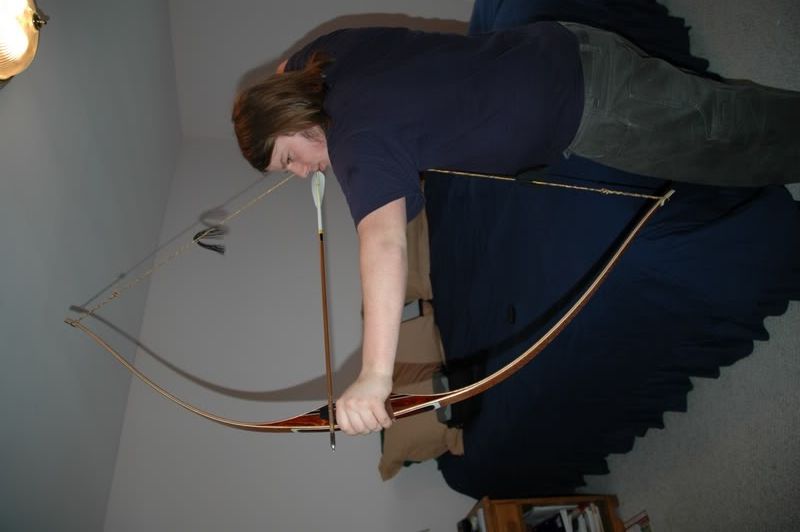 My bow...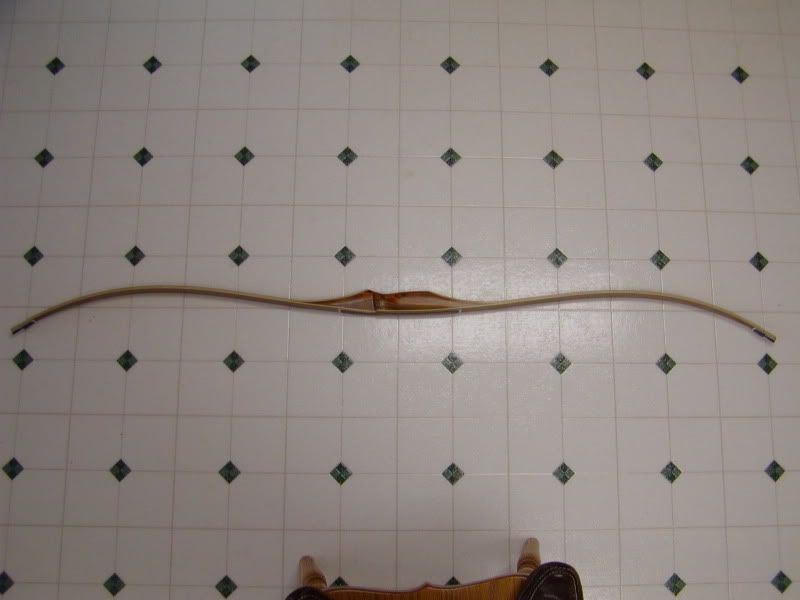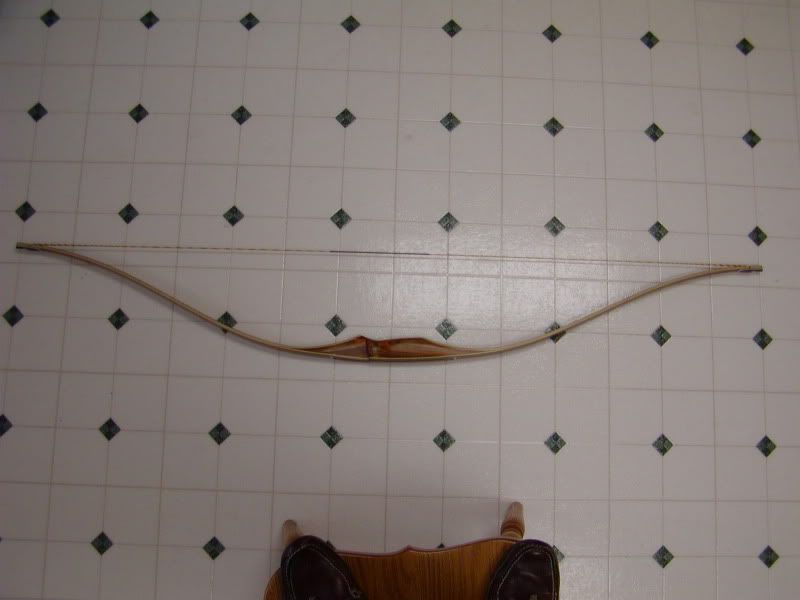 You can see in the braced and drawn photos that there is extra reflex in the tips. The WTT video also showed that my bow especially had vibration. I think that was mostly due to the heavy tips. Daniel's bow had a straight width taper and mine had a parabolic (curved taper). Mine had vibration...hmmm? So, I think the first thing that I'm going to do in my R&D process is to try some experiments with this existing bow design and see if I can speed it up and reduce the vibration in the power stroke. I have the first bow that came off of this form that I can do my first testing on. It came out too heavy in weight plus it had some delamming issues in the riser. First, I repaired the riser by injecting some super glue into the cracks between the lams and clamping it all back together. Then I drilled and screwed a bunch of long screws into it. So far, it is holding together. Next, I ground the limbs into a straight taper from 1-3/8" at the fades to 1/4" tips with back nocks. Last night, I shaped the handle and refined the tips a bit. This glue up also had a tillering problem in that the lower limb is 5/8" too strong. I must have mis-matched the glass during glue up or made a grinding error making the lams. So, I also sanded the back and belly glass a bit on the lower limb and will work on that more tonight. I'll show some pics later.
What I hope to discover by testing this particular bow is how much narrowing the limbs affects the brace profile, full draw profile and finished draw weight.
Then I can make adjustments in the lay up on the next bow. I believe that my goal for the profile is to have some visible reflex at brace and straight tips or just a bit of visible reflex at full draw. I can already tell that the super narrowing is letting some of the reflex open up, but once I get the tiller balanced, I'll be able to see it better on the tree.
Jim