Ok. I'll post some pics when I get home. They're boring pics of square parts with holes in them but it's a start.
Let's start off today's lesson with one word; CONSISTANCY. When doing multiples of anything you always do everything with consistancy. I take a lot of time and care in the prepping of the blocks.
I square them up and make them as close to each other in size and as straight as I can. That way I can set a stop, put the part in the vice, and perform an operation on each part with minimal checking of the ordinate(X,Y,Z zero). I know that when I put that part in the vice, slide it against the stop, close the vice, and give it a little love tap on the paralells with a dead-blow hammer, that it is in the same spot within probably .001" as the last part was. Since the parts are all squared to the same size, I can flip the part over, and perform operations on the other side and everything lines up perfectly. This saves tons of time and money. Well, far more perfectly than a bow needs to be. So by doing this I have some milling and drilling operations done on 3 sides of our blocks. All the fixtureing holes, stabilizer hole, plunger holes, dampener holes, and AMO sight holes are in place on all 11 riser blocks now.
Now, when I square up the blocks I leave stock on all sides usually adding up to a really round number. I make compensations for this when I touch off my tools. I also use the center of the block as my X/Y zero. That's how Mold Makers do stuff. That way the error acumulates from the inside out and minimizes the mis-match of cutting operations from different sides as well as minimizing mis-match of mating parts. This really isn't necessary because we're not trying to make a mold with a contoured parting line shut off air-tight, we're just making a friggin bow. Please pardon me being anal and obsessive/compulsive. Z zero is the top surface below the stock left so I make adjustments in my tool length offsets to compensate for the stock.
Ok. With me so far? Here's some pictures.
This is one of me pretending the riser is finished but it's not. It's a big, square block with holes. Notice the dampener hole, sight holes, and plunger holes.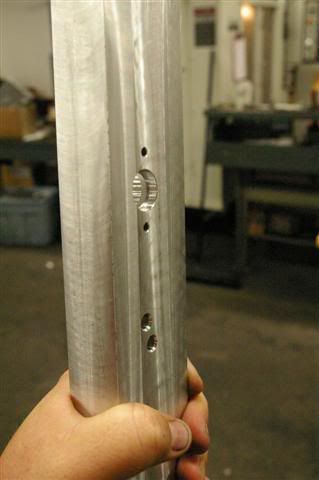 This is what I was talking about with setting a stop. That strap clamp has been modified by me to have a nice, clean, square, radiused corner. I bump the machined end of the riser blank up agaist that with each one of these set-ups that I use a vice with.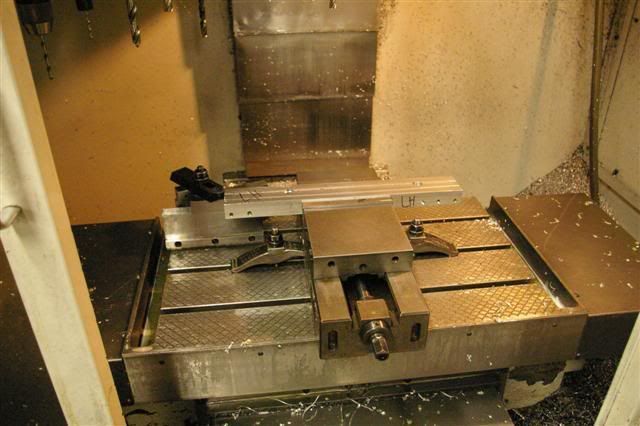 And this is that set-up in action. I had to be fast with taking the picture so I didn't get sprayed with coolant. The coolant nozzles are pointed at different heights because the drills and cutters I used with that program are all different lengths.
Anyway, you see all the tapped holes and the 2 outside untapped holes in the back side of the riser blanks? The tapped inside holes are both for the Stab hole but also for fixturing. Those holes will all be machined away with future operations. I sneak them in places like right over the shelf or in where the limb pockets will be. The outside holes are reamed .251". The fixture shown assembled with the part has 1/4" dowel pins press fit on locations coresponding with the .251" holes on the part. The tapped holes on the part have coresponding clearance holes, countersunk for socket-head-cap-screws from below. So basicly all of those blanks will pop on to that fixture, back side down, and be screwed in with a repeatability error of .0005"/side. Now I take the assembly shown and put it in a nesting fixture where the back-to-belly profile will be cut out with a long inserted cutter with a step-down of about .065-.070"/pass, leaving .005/side on the part to be finished with a long fluted 3/4" solid carbide end mill just like we finish the pocket walls on a mold. No less that .005/tooth and about 1/3 the speed of what the book says. Nice lead-in/lead-out moves and the part comes out straight, uniform thickness, and smooth as glass with only one deflection pass. That won't be done for a few days because I have to do some of my day-job stuff in that machine. Anyway, I colored in with the Sharpie what's going to be left when I do that operation.