T.J. Deerslayer asked me to resubmit a inlay-along showing how I do the inlays on my bows so here it is. These add nothing but athstetics to a bow but there are not all that hard and make any bow stand out in a crowd. I think the perfect place for them is on the bottom of the belly side of the riser. I've learned not to make them so long that they get too close to the fades, because they can lift with the flexing of the fades.
I use lamination scraps to make my inlays. If you use thicker laminations, the wood chips less. Then you can sand them thinner before you attach them to your bow.
Draw your design and make sure it is not too wide to fit the place you intend to put it.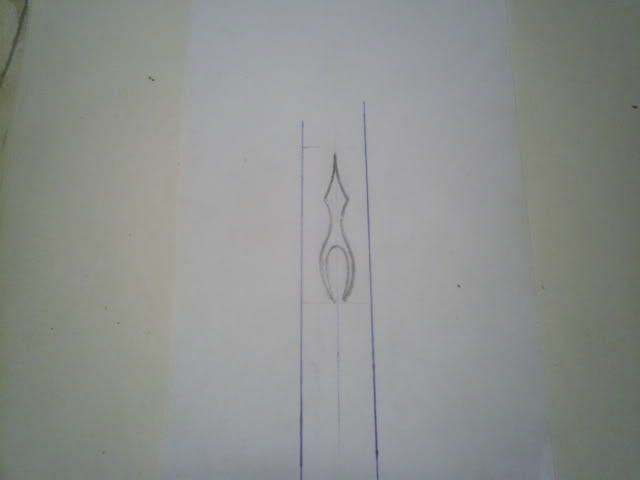 I use tacky glue to attach the design to the wood. I prefer to cover the wood with masking tape. (don't know why I didn't in this picture) The tape allows you to draw on it and also keeps the wood from splintering.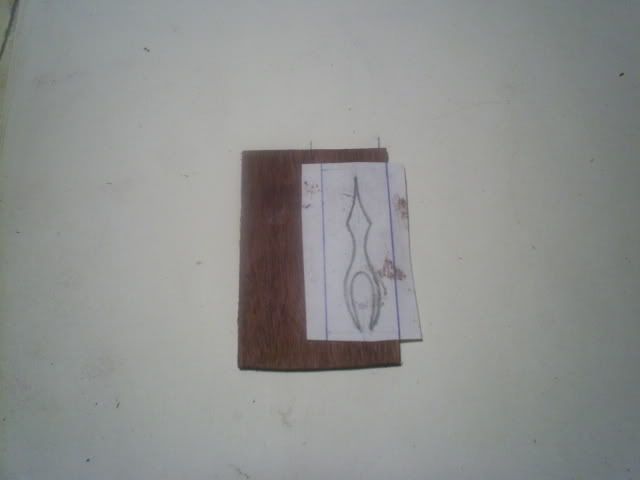 Then I cut the design out with my scroll saw. I use a real thin blade with teeth close together. Keep firm downward pressure on your stock while cutting. You might have to even things up carefully with a small file or sandpaper. When you are happy with your design, trace it on the piece of wood your are inlaying into. Make sure it is centered. I didn't center this piece because I had more plans for it later.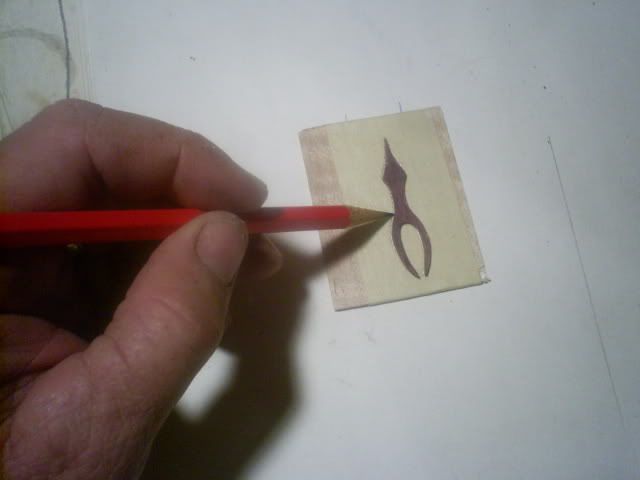 Drill a small hole and insert your scroll saw blade. Carefully cut the design leaving the pencil mark.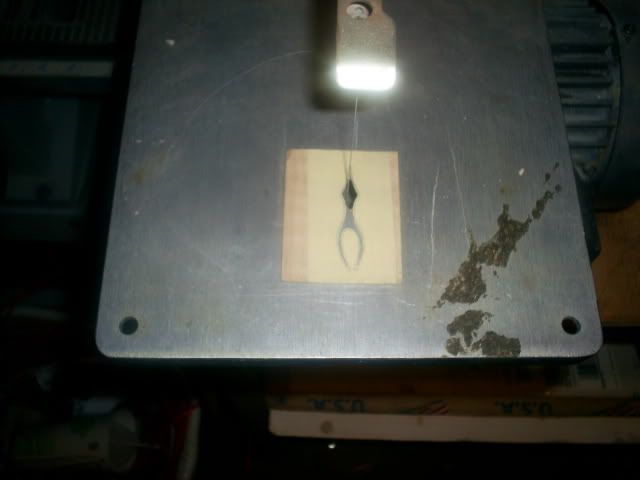 You'll probably find the inlay design does not fit just yet. Hold the design against the wood you've cut out up to light. You'll see where the wood needs to be filed or sanded. Be careful not to force the design into the cut out too hard or you might break it. After some tedious sanding and filing you should be able to get the design into the cut out. When you hold it up to light you will see that it probably does not fit perfect. Get it as close as you can with out leaving any big gaps.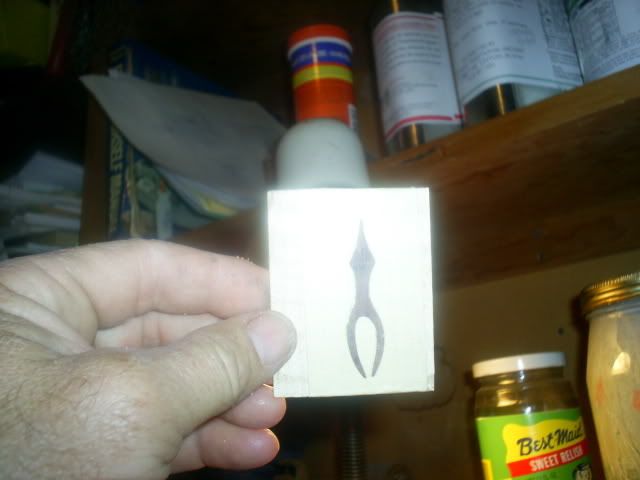 Next I make a paste using exterior wood glue and sanding dust from the darker of the two woods. Apply the paste to the edges of the design and glue it in place. Take the paste and force it all around the design with your fingers. Wax paper makes a good surface to work on.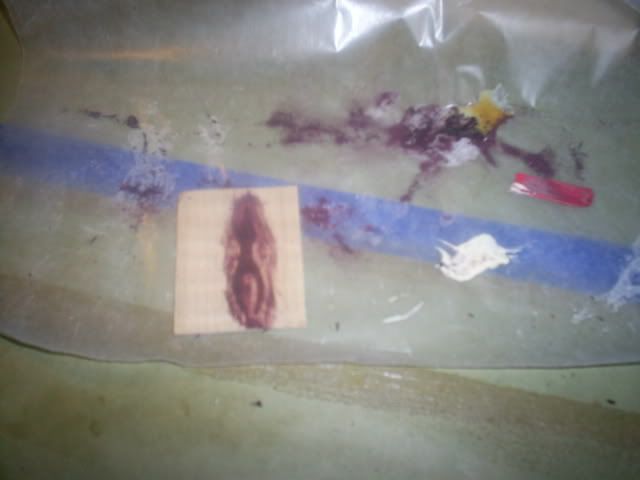 After the glue is dry, sand the paste off. Here is what it looks like.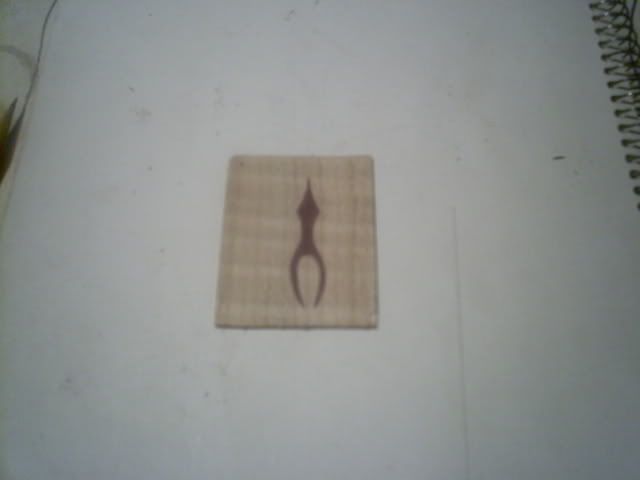 This is why I didn't worry about centering this design. I intended to inlay the design into another piece of wood. I cut the design out in an oval shape. Again, I had to make sure I was not too wide to fit the riser. This time I made sure it was centered.
Again, leave the line when you cut the design. This is what it looks like all ready for a bow. I usually sand my inlays real thin with my drum sander in my drill press and a guide. I want to be able to flex the inlay so it goes along my fadeout without breaking.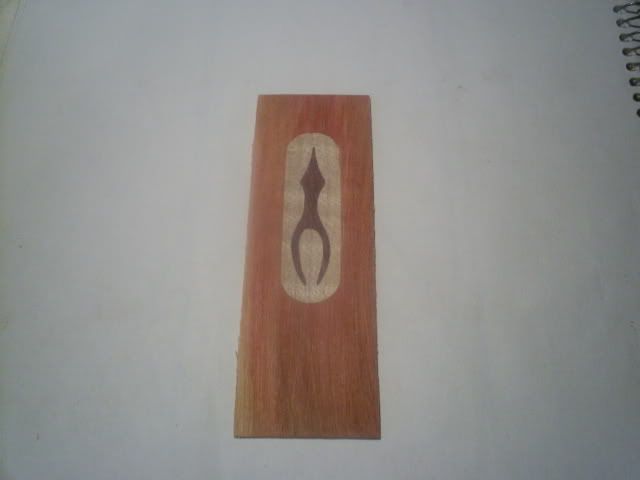 Here is a picture of the bow with the inlay on it. The 'flaming arrowhead' is bloodwood inlaid into curley maple inlaid into pink ivory. Then the inlay is on top of a bloodwood overlay that is on top of aan ebony overlay.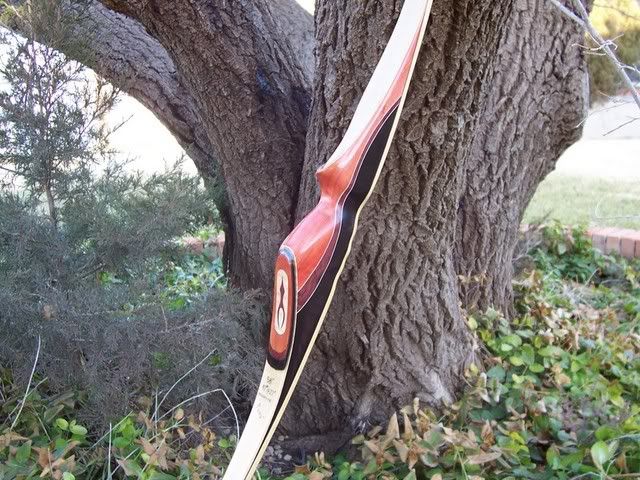 Here are a few others I've done.