alright guys, since so many of you are interested in this, and have asked me ill do a build along using the one limb at a time build method. first of all, the one limb at a time method was ginos idea so he gets credit. i just did the sensible thing and pirated.
this is a 64" R/D design that jwillis basically came up with after we talked about it a little. its got 3/4" deflex and 2" reflex. the riser has 8 degree limb "pads" allowing for the right amount of preload built into the limb.
the benefits of building a one piece bow, one limb at a time are as follows
1. you only have to worry about gluing one limb rather than gluing up full length pieces. this is good for me since i prefer not working with full length material, it gets messy and takes forever. lol.
2. you can experiment with different amounts of preload in a limb design simply by changing the angle on your riser. but you still use the same form.
3. you dont have to worry about shaping the back of your riser block to fit perfectly into your form since you are simply cutting two angled cuts into it and later in the process you will sand the back to give it a rounded shape.
4. the form obviously takes up less space so that helps some people with confined shops.
5. your limbs are guranteed to be exactly the same in profile as long as your riser angles are the same. this greatly improves your limb timing right out of the box.
6. you can change the length of the bow just by changing riser length and angle. once you have a perfected limb at one length you dont have to change it to make a different length bow, just change the riser.
im sure im missing something in there so gino if you want to fill in anything feel free.
the form consists of two parts, the main form is where the limb bend is and one half of the riser sits. the second part is a removable block that is cut with the angle you intend to use on your riser. youll see it in pics and it makes more sense. you build the main part of the form for the shortest bow you plan to build out of it and consequently the steepest angles on it also. for example the form im using here is made to make a 64" bow and longer using an 18" or more riser. if you want to change the length of the bow you just change the riser length and increase or decrease the angle you use on the riser. for every two inches of length you remove you increase the limb pad angle by 1 degree on each end. ex 64" bow with 8 degree pads, if you make a 62" bow you would use 9 degree pads. this allows you to use the same limb design and length but you can build many different bow lengths just by changing the riser pad angle.
now, the bows made in this form are ideally made using heat strips but i dont have them. so i cut a slot in one end of my hotbox so i could stick one limb of the bow out of it while the second limb cures in the box, thus avoiding double cooking the limb.
im doing the build along in real time so it might take me a while.
this bow is for one of my teachers. its 64" long with an 18" riser. cocobolo and bocote riser with black glass and osage accents. bocote veneers under clear glass with actionboo (provided by kirk thanks!!) and maple cores.
i skipped out on the gluing up the riser block portion of the build along because i already had it done once i decided to do the build. first i drew the angles onto my riser, for this bow they are 8 degrees. i rough cut with my bandsaw and finished to the line with my disc sander and a 60 grit disc.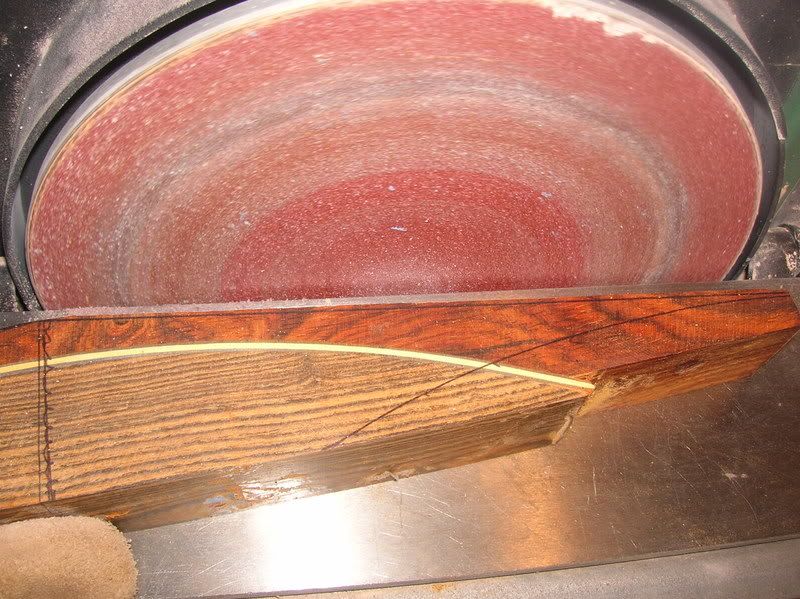 heres the riser after the angles are finished
i have a little pattern i use to draw the fades onto the block so i traced it onto the block, and im off to rough cut with my bandsaw again. (carbide blades still going strong and ive put glass through it multiple times, including this cut)
i finish sand to the line with my drum on my drill press. i only do this on one side so my fades dont get messed up on the other end when i glue up the first limb. i sand the second set after the first limb is cured.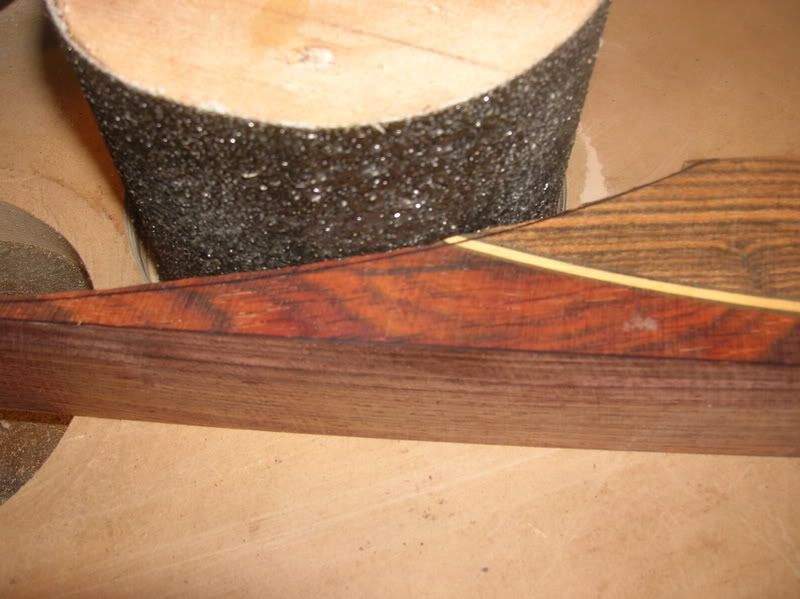 this drum is the drum i use to grind laminations too. its 4" plugs cut with a hole saw and theyre on 1/2" threaded rod. i use spray contact adhesive to glue 40 grit zirconium belt to the drum. and i staple the seam together until the glue is set.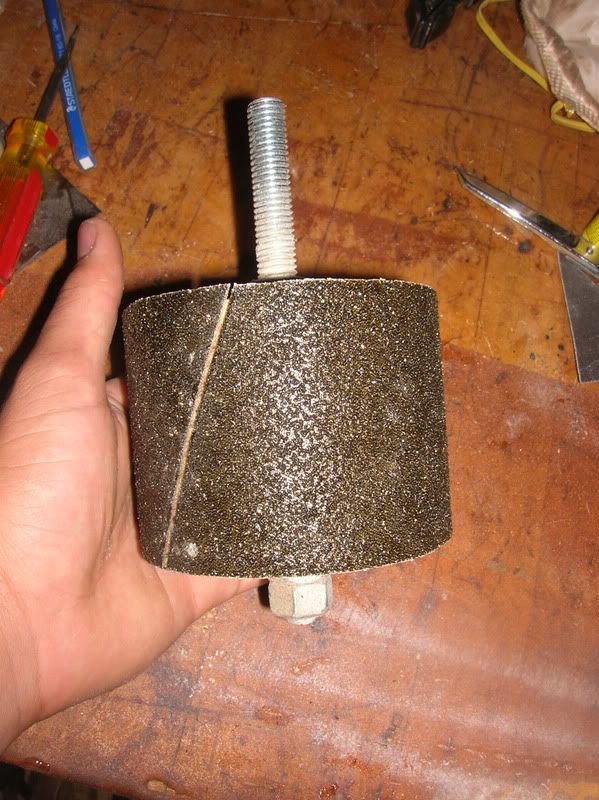 kirk ground my tapers for me and i bought the veneers from binghams but i had to grind a maple parallel to fill in the rest of my stack thickness so i cut two up with the bandsaw and ground em down.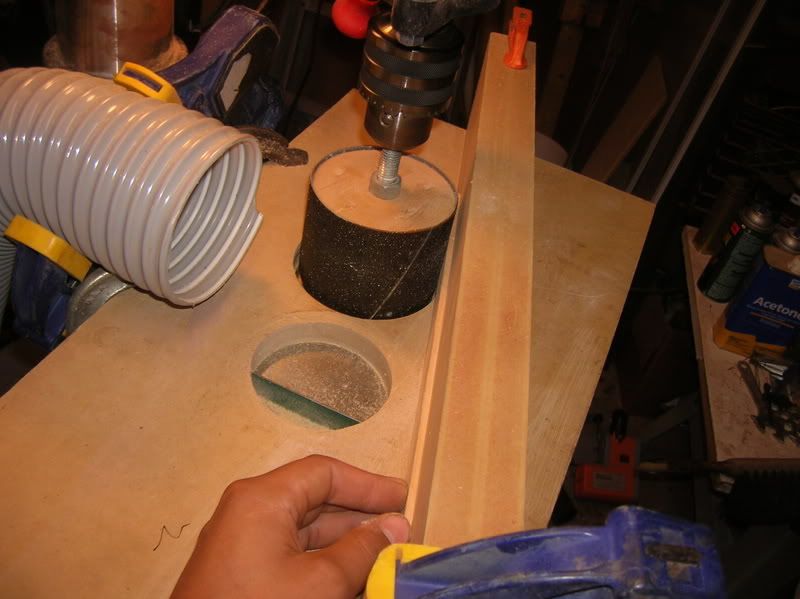 i had previously ground my tip wedges and my riser extensions out of .030 coretuff but heres my sleds that i do it with. ernies idea here, i just shimmed up the one end with the appropriate thickness and screwwed them together.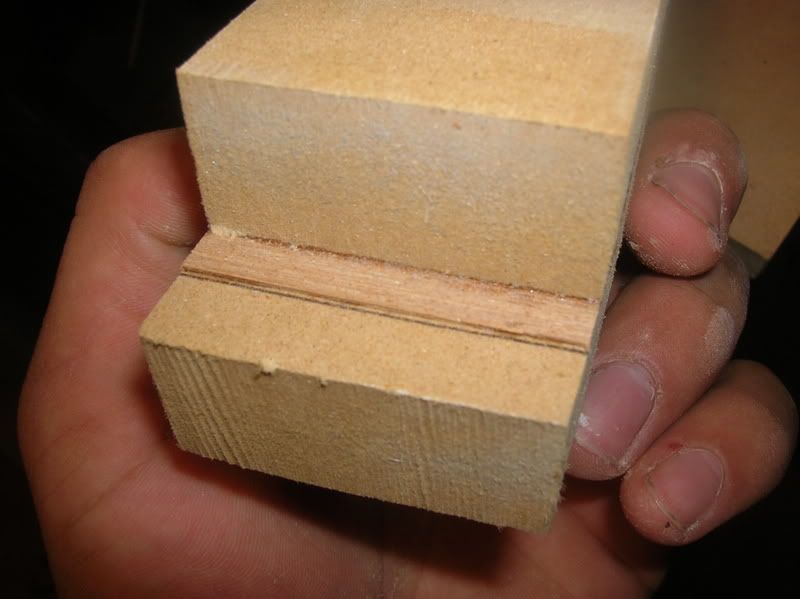 i layed everything out and got as much ready as i could to glue the first limb up. im going to get up early before work tommorow and glue it all together.
my stack is thus, back to belly,
.043 uls clear
.0305 bocote
.100x.002 taper carbonized actionboo flooring
riser/riser extender/ tip wedge
.102x.002 taper carbonized actionboo flooring
.089 maple
.0305 bocote
.030 clear ul
in this pic belly is on top, back is on bottom
heres my tip wedge and riser extension, they have dark spots on the ends because i use double sided tape to hold them on my sled.
heres the form all set and ready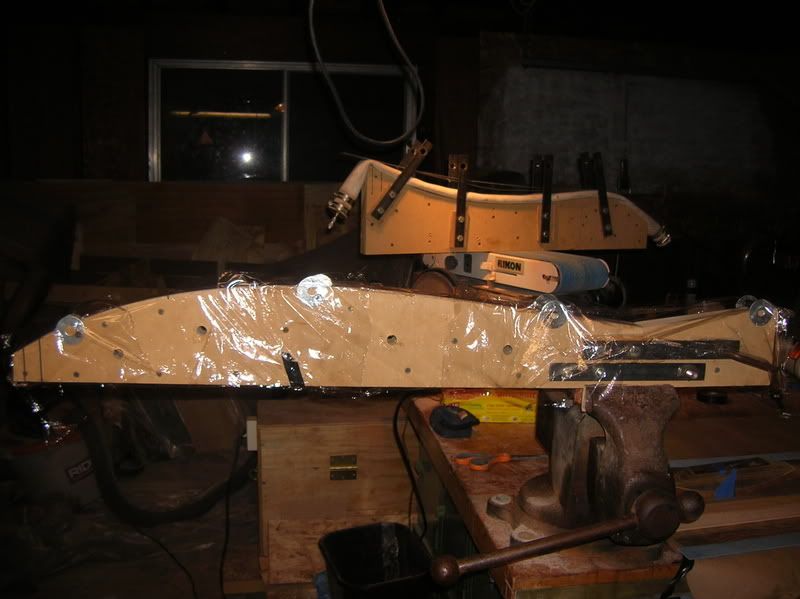 and my hotbox, you can see on this end the hole is plugged with insulation, later you will see the slot thats there
yeah, lots of tape.
ill be working on this as much as i can, working around work, isnt that ironic. lol.