(Just click these thumbnail photos to see the larger image)
This may be too many photos and too detailed of a build along, but you can simply click on the photos you want to see and pass over the others.
Here's how the riser looks after I planed it to 1-5/8" in thickness. I flattened one side on the jointer, then planed the other side parallel to it on the thickness planer.
Tracing the template.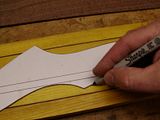 Extending the curve of the riser back off of the blank.
Cutting the riser back glass overlays with a dremel tool.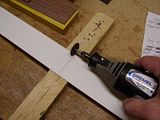 Cutting the riser back profile.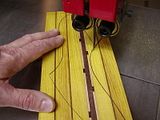 Grinding the profile to fit the template and the pressure blocks using my cheap spindle grinder.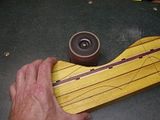 Checking the fit of the pressure blocks.
Dry run of the overlays, blocks and clamps.
Checking for gaps between the overlays and riser block. There is a little gap here. Going back to the grinder.
Now its better.
The riser and overlays all organized in order to be glued.
Glued and clamped. I'll leave to dry overnight. No heat.
After gluing. Looks good.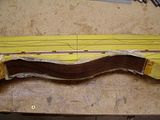 Cleaning off the squeeze out on the spindle sander. Note how I keep the grinder at a slight angle and off the sides to keep the block parallel.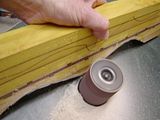 Flatten the sides ever so slightly to get the remaining glue off.
Block sanding the center of the overlays to rough up the surface for gluing on the second layer. I glue them on in two steps like this because it just works easier for me in pressing them down evenly.
Rough it up a bit more with the spindle sander.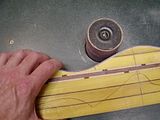 Brushing off the surfaces in preparation for gluing.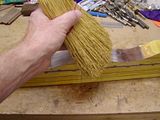 The second layer of overlays organized in order of gluing and ready while I mix up more Smooth-On.